Carpet Cleaning Services FAQ
Does your carpet cleaning services clean all types of flooring?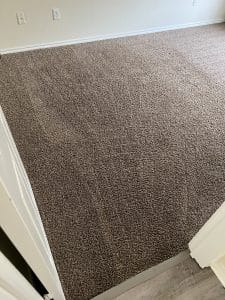 Our carpet cleaning services are designed to restore your carpets to a like-new condition. We use a combination of powerful vacuums, deep steam cleaning, and specialized detergents to break down dirt, dust, and other debris that can build up in carpets over time. Our technicians will also pre-treat and pre-spray heavily soiled areas, as well as apply a protective layer of carpet protection to your carpets. Our tile cleaning service is designed to effectively clean both ceramic and porcelain tiles, as well as grout lines. We will use specialized detergents and steam cleaning to remove dirt and stains from your tiles, as well as any stubborn grout lines
How long does carpet cleaning take?
Our carpet cleaning services offer a comprehensive approach to carpet cleaning. We use powerful vacuums and hot water extraction to remove dirt, dust, allergens and other contaminants from carpets. We also use pre-treatment and deodorizers to ensure your carpets look and smell their best. Our tile cleaning service is designed to restore the beauty of your tile and grout. We use specialized cleaning solutions and power scrubbing to loosen up dirt and grime, and then use powerful vacuums and heated water extraction to remove them.
How often should one have their carpets and tiles professionally cleaned?
Our carpet and tile cleaning service specializes in deep-cleaning and restoring carpets and tiled floors to their former glory. It is recommended that this deep cleaning be done twice a year for most homes, but we often do additional cleanings when there are special events or emergencies. We use high-powered vacuum equipment and specialized cleaning compounds to deep-clean and sanitize the carpets and tiles, killing bacteria and removing odors, dirt and stains. We also offer a variety of additional services, including stain removal, deodorizing treatments and getting rid of pet hairs. Our experienced technicians use the latest techniques to provide a safe and effective service. We guarantee satisfaction so that your carpets and tiles look like new.
Did you know that our carpet cleaning service can help to reduce allergens in your home?
Carpet cleaning and tile cleaning are both important to maintain the cleanliness and aesthetic of your home or business. Carpet cleaning involves removing dirt, debris, and allergens from the carpet fibers, while tile cleaning involves deep cleaning and sanitizing the tile and grout to eliminate bacteria and other contaminants. Carpet cleaning involves vacuuming, steam cleaning, and spot cleaning, while tile cleaning involves scrubbing, power washing, and grout sealing. Both processes are important to ensure a clean and healthy environment for you, your family, and your guests.